Audio / Video Production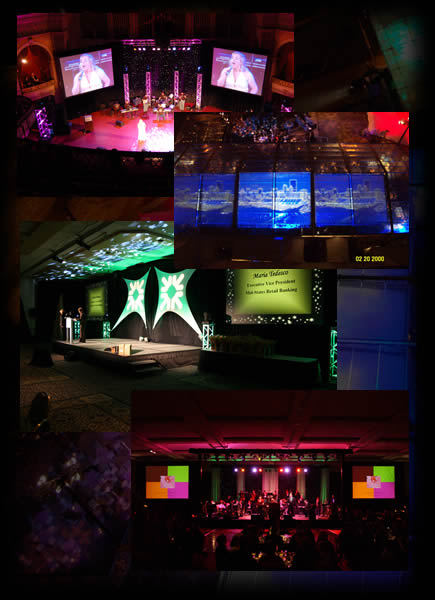 Our professionally trained staff has acquired decades of experience in all aspects of lighting production including:
Audio Production
Large Screen Video Production
Lighting Production
Power Distribution and Electrical
Rigging
Staging and Set Design
Themes and Décor
Site Management
Our technicians will make sure that every aspect of your event is perfectly planned and produced with first class equipment and state of the art technology. We are fully insured and formally trained in all aspects of rigging and safety techniques.
Project Design
Our design team will help you design scenic and spatial solutions for your particular project and budget. We then provide you with floor plans, sketches, renderings and/or scenic animations to bring your vision to life.
Project Management
We offer help with all technical aspects of a project including site drawings, hotel technical coordination and negotiations, labor management, equipment specifications, scheduling, and budget control.
Equipment Rentals
Our warehouse is stocked with the latest and greatest Audio, Video, Staging and Lighting equipment. Our company only purchases brand new, state of the art equipment.
Scene Shop
Set construction – Display construction – Backdrops – Props – Large product reproductions – Foam carving – Special effects – Welding.
On Site Labor
We have a full time technical staff and extensive freelance contacts throughout the country. We also have years of experience working with just about every performance union throughout the country.