David L. Lawrence Convention Center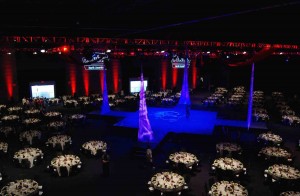 As the "In House" provider of AV and Lighting and the Exclusive rigging provider for the David L.Lawrence Convention Center, we offer endless options for your convention, gala or business meeting. From large, impressive General Sessions to Multiple smaller Break-Out Rooms, we cater to events of all shapes and sizes.
Visit Forms & Policies to read about our EXCLUSIVE RIGGING guidelines or download forms. We have certified rigging experts with decades of experience to ensure that your event is rigged safely and in accordance with the guidelines set by the ETCP certifications.
With nearly a decade of experience working inside the DLCC, we have endless variations of set designs we can offer you for each and every room in the building.
We offer the following World Class Production services to clients of the David L. Lawrence Convention Center.
Audio Production
Video Production
Lighting Production
Rigging
World Class event conceptualization, layout and design
Read rave reviews from our clients or check on the latest news from our production Staff.
Need a Band or Orchestra for your event? Check out our two exclusive bands Cityscape and In The Mood.